Since our post on
lists for the new school year
, we have been thinking a lot about the right school bag. At this time of the year, us parents have been spending a lot of time shopping for all our children's school supplies. The most important one is the school bag!
Have you thought of the importance of a good school bag?
Greek4Kids prepared some questions and contacted
Emma's Lunch
to seek their expertise on school bags. Check out their page on
Back2School products
for ideas on designs and patterns!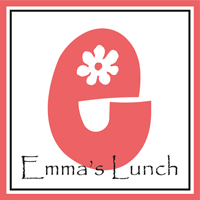 What should a parent know about the different shapes, sizes, weight and straps type?
There are many kinds of school bags out there, the important thing to look for is the correct size of bag for your child (most importantly the bag should not be too big). When choosing a backpack make sure to tighten the straps and see how the bag is positioned on the child's back. Ideally you should be looking for anatomical backpacks which are contoured to the spine.
The weight of the bag also has to be considered. Think about how much it would weigh with books inside! This is a good guide to follow when considering how heavy should be the backpack when compared to the weight of the child.
Sadly, children are expected to carry far too many books and usually the weight of the backpack exceeds those guidelines by far. This is why I would recommend always buying a roller backpack or trolley for your young children. There is no strain on the back and you can fit pretty much anything in it.
What should the parents look out for in terms of the design of a bag?
Parents should ensure the backpack or trolley has enough separate compartments. It is much easier to organize the books and keep notebooks, pencil cases and other equipment separate. This allows for easy access to necessary items and it also encourages using and developing organizational skills. For Cyprus and hot weather countries I would strongly recommend choosing a bag with an insulated compartment or purchasing a separate insulated bag which can then be attached to the trolley or kept in one of the compartments for keeping water and lunch boxes.
How do you know if you have chosen a sturdy, hard-wearing bag?
Brand awareness is important. Make sure you go to tried and tested suppliers and choose the bags offered by established bag producers. When choosing a licensed product, Disney, Nickelodeon, HIT entertainment, Marvel, Mattel etc ensure that

you are actually buying an original bag. This will guarantee that the bag is meeting all health requirements and regulations, that it is safe and appropriate for the ages intended and that it is durable. Some of the things to look out for are

proper packaging with copyrights and full details of the licensee (meaning the contact information of company who has been given the license to produce that item). This information should also be found in different places depending on the licensor on an inside label, or on a label outside the bag. If you find those you should be safe.
There are so many patterns out there! It is so hard to choose! What do you recommend?
There is no one great design! If you follow the above guidelines when looking for a bag, you should be safe to let your child choose their own colour or character. This empowers them and makes them happy to be carrying a bag they chose on their own.
Good luck choosing the right bag for your child.
Thank you very much Emma's Lunch for the very useful information!